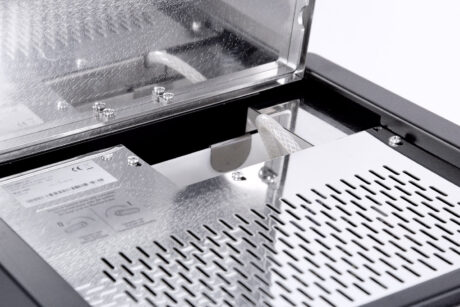 Body in stainless steel 304, tidy and essential
TECHNICAL CHARACTERISTICS:
Premium aesthetic details
Large cup warmer
New electronic, updated and intuitive
0,75 stainless steel coffee boiler,, insulated
2.0 Lts. stainless steel steam boiler, insulated
Coffee heater 1400 W
Steam heater 1400 W
Safety coffee thermostat
Niveau probe, to protect the coffee heater
Safety steam thermostat
Rotary pump, muted. (with external adjustment)
Capacitive sensor for water lack
Oled display 1,3″
On-off switch backlighted
Large drip tray
No burn steam and water wands
Pump pressure gauge
Steam pressure gauge
Plumbing capability
3 lts. side loading water tank
Max. absorbed power 1550 watt
Stand-by mode
Eco mode
Automatic mode (with daily and weekly on-off, programmable)
Temperatures adjustment
Shot timer
Possibility to switch off the steam boiler, for the energy saving
Automatic cleaning programm
Brewing counter
Possibility to choose C° and F°
All the adjustments are made through wi-fi, entering the link through smartphone, tablet or computer:

password: QUICKMILLGL2B
Link: 192.168.1.1
Sizes: H. 38 cms. L. 33 cms. D. 47.5 cms.